Lots to update you all on, including new classes, our spring timetable, latest 'Member of the Month' winners and Personal Training offers! More exciting though is we are organising a big SFC members 'Summer Party' that we know will excite a few of you!
We've had bumper crowds at classes thanks in large to the sunny weather and lighter evenings with some cracking sessions….like this video from a recent Godalming class when the members got a little excited over some tug-o-war!
Remember to 'like' our Facebook page and follow us on Instagram plus Twitter to see daily videos from our classes!
Spring timetable, starts Tuesday!
Our full spring timetable starts this Tuesday and we will email all members this weekend. With the clocks changing and with it lighter evenings, many locations see their evening classes move to their summer location like Godalming evening classes moving to Holloway Hill Rec and Haslemere classes to the Devils Punchbowl and Haslemere Rec.
New classes – We have already added new classes to our timetable this year and plan even more to start in the coming weeks! Some of these new classes include a new morning class in Haslemere, and another evening class in Godalming making membership of SFC even greater value!
We will be relaunching classes in Cranleigh week commencing 24th April and Alton classes shortly after this.
Latest Member of the Month winners!
Since our last update we have presented our latest 'Member of the Month' awards to longstanding Haslemere member and party animal Treena Haigh and to Farnham regular, the very lovely Sue Holford! 
Read why we chose Treena and Sue as the latest winners on our new 'Awards' section on our website.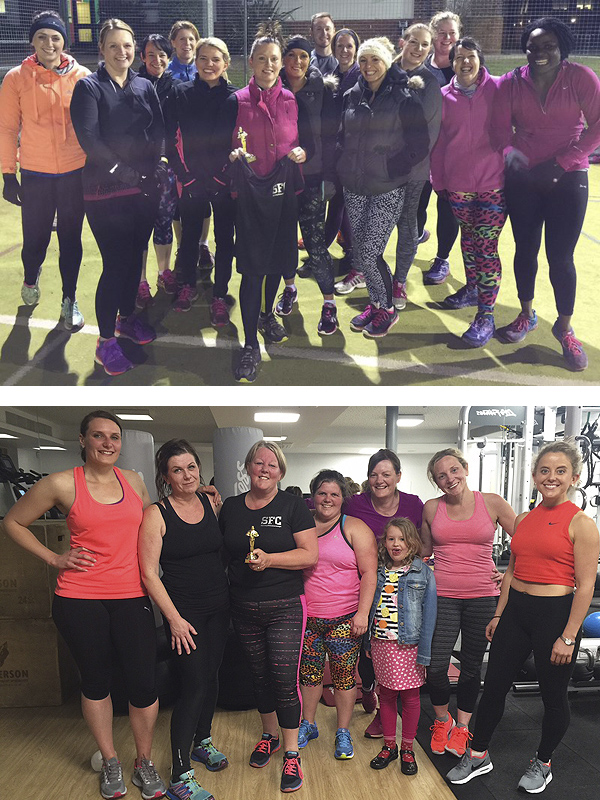 One to one Personal Training – Special spring offer!
Want to seriously ramp up your fitness this summer and get in fantastic shape? Kickstart your fitness in style or push yourself to the next level?
Every day Mark, Grant, Rosie and Andrew provide one to one Personal Training sessions in Guildford, Godalming, Farnham, Haslemere & Woking. One to one sessions can be at a day, time and location to best suit you – sessions can take place at a local park, your home or at our Gym in Farnham working specifically on your fitness goals.
If you are keen for some one to one training we have a special 'Spring offer' so you can try some PT sessions at a special price! Personal Training sessions can be with a friend making the cost of having a Personal Trainer super affordable! Ping me an email back if you are interested!
Group Personal Training sessions
Each week we have 8 group Personal Training Blitz sessions open to anyone to join and for all fitness levels. These cost just £15 for a maximum of four people. Current locations include Farnham with Grant at our Gym at Weydon School plus four weekly sessions in Godalming with Mark on Wednesday and Friday evening!
We have very limited places on sessions in April with May dates going on sale on Monday night, drop us an email to book yourself a place! 
Fancy your own bespoke group Personal Training session for you and your friends? We do four weekly private bespoke fitness sessions for groups of friends. These can be at a day, time and location to suit. Drop us an email back if you're keen!
You can see videos from our Personal Training sessions on Instagram almost daily!