It's been a fantastically busy start to 2016 for us at Surrey Fitness Centres. With spring in the air and our peak busy period around the corner we are working flat out behind the scenes here at HQ making SFC even bigger and badder, with loads more classes and exciting developments soon to be announced!
Here's the latest news from HQ to give you all the lowdown!
Woking Member Bronwyn wins Brutal 10km race!
We are super proud here at Surrey Fitness Centres HQ of our member Bronwyn Hartney who was the winning female in the latest Brutal 10km held in Bagshot a fortnight ago!
For us and members who know Bronwyn it didn't come as a surprise as she's a fitness animal, training twice a week at our Woking Boot Camp plus our Saturday off-road fitness session. Not only that, she completes various one to one Personal Training sessions and small group PT Blitz sessions each month with our trainers Grant and Andrew.
Last month she came second female in the Brooks HellRunner event so we knew she'd do great.
If you follow us on Instagram or Facebook you would have seen the fab video of our members Treena and Dave coming through 'Bog of Doom' at Judgement Day!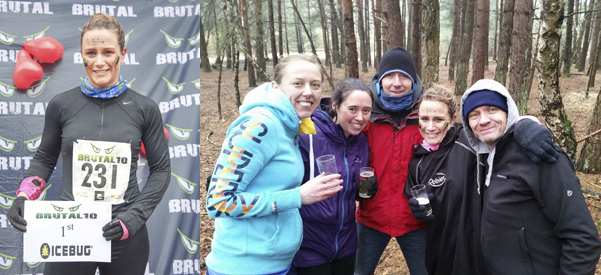 Haslemere members surprise 'Hen-do' for Rosie Ford
Our Haslemere and Liphook Boot Camp members looked amazing all dressed up as wedding guests, (with Dave dressed as the Vicar) to surprise fellow Haslemere member and bride-to-be Rose Ford who gets married in April in what was dubbed as her 'Boot Camp hen-do'!
Shout out to our fab Haslemere members Fiona, Nats, Jim, Dave, Becca, Ellie, Treena and Tony for organising it!
Check out all the pre-race photos!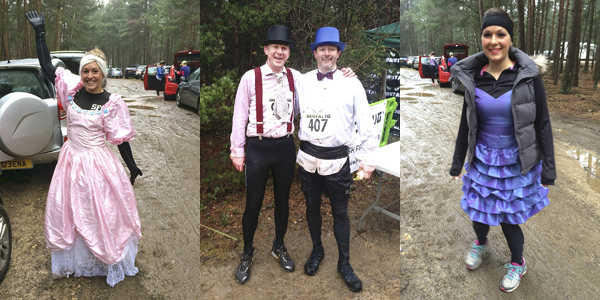 Insanity
In January we launched our brand new 'Insanity' classes with our trainer Sam Williams and it has proved a real hit with those that come so far! We are adding more weekly classes with a new Thursday class at 8pm in Woking at Winston Churchill School – get in touch if you are interested in coming along to this new class!
Insanity is a high intensity indoor class with pumping music and is perfect for all fitness levels from beginners to more active members. Come and give it a go!
New class – 'Yoga for Fitness'
'Yoga for Fitness' is a brand new class on our timetable that is proving a winner! We have two classes currently (and third coming soon!)- Mondays at 7:45pm at Godalming College and Wednesday at 8pm at Weydon School in Farnham. This class is perfect for those active members to improve your flexibility, loosen still and tired muscles and aid recovery. This class will be challenging for beginners and more experienced Yogis!  Best of all the classes are free as part of your memberships making SFC even greater value for money!
One to one and small group Personal Training 
Every week Mark, Grant, Andrew and Sam complete 100+ one to one and small group Personal Training sessions between us. Sessions can take place at a day, time and location to suit you. If you are keen to book some one to one sessions get in touch as we have very limited availability. Sessions can work on whatever you wish from strength and conditioning with Grant and Sam, to off-road running/fitness with Andrew to one to one Boxing training with Mark!
Our mega popular group 'PT Blitz' sessions continue to be sold out every week. We have just released dates of sessions in March and April with Grant, Andrew and Sam. Some sessions are already sold out so if you want a place do get in touch asap!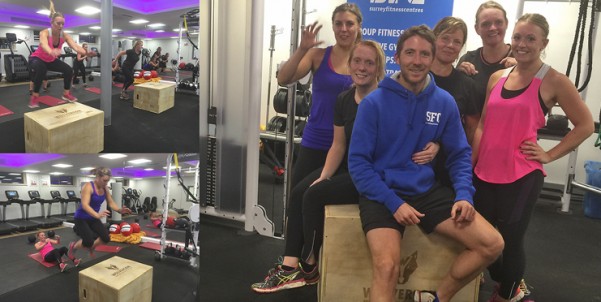 Our new exclusive Members Gym
Our members gym at Weydon School in Farnham goes from strength to strength with loads of new members signing up. The gym is packed with cardio equipment, plyo boxes, slam balls, battle ropes, barbells, weights, kettlebells and more! Membership is only £15 per month and remember if you have an 'Unlimited Membership' with us you automatically get a FREE membership to the gym!
Facebook, Instagram, Twitter 
Remember to 'like' us on Facebook, follow us on Twitter and Instagram to get the daily updates from SFC HQ and reminders of what classes are on and when! Also we upload photos and videos from our classes and PT sessions so you can see what we've been up to and spot yourself!
That's all for now guys – in the next newsletter we will have details on our next members social event, the latest winners of our 'Member of the Month' and info on one (or two!) new classes!