It's been an incredibly busy start to 2017 – with jam-packed classes over Christmas that momentum has carried into January (thanks to most of our members hitting Christmas too hard and needing a detox!) plus we've had LOADS of new members signing up! 
New classes in January!
We have added two new classes to our timetable – Wednesday mornings in Godalming at 9:30am with Mark making it 7 (soon to be 8!) weekly classes a week in Godalming and a new Tuesday evenings in Woking with Karen, making it 4 classes a week in the Woking area!
We are planning to start more classes in the coming weeks – a morning and additional evening class in Haslemere plus an extra evening class in Godalming – all making membership to SFC even greater value!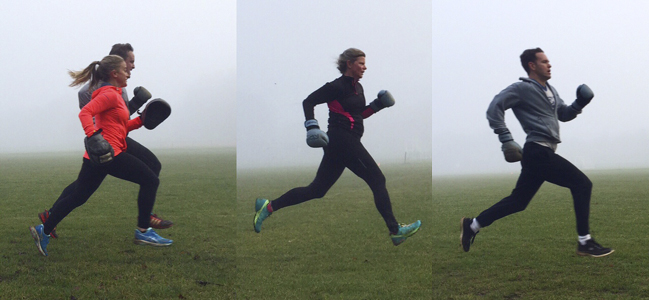 New 'Hybrid' fitness class!
We will be launching a new weekly class throughout Surrey called 'Hybrid' – where Run Club meets Urban Boot Camp – we did a trial last Tuesday in Woking that will now be a regular class and plan to add this class in Godalming plus Haslemere shortly.
The classes will be varied, using local routes and delights that each local area has to offer. Each class will be a real mix of group running and traditional Boot Camp workouts/exercises. Like all Surrey Fitness Centres classes the new 'Hybrid' classes are for all abilities so whether you are a complete beginner or seasoned SFC members you will be fine and very welcome to take part.
Headlamps will be provided for night classes and all you need to bring is a small bottle of water, one you are happy to run with.
We did a trial class in Woking last week that went down well with regulars and our new starters. We will be doing a couple of trial classes in Godalming and Haslemere in the next couple of weeks then adding regular classes to the timetable!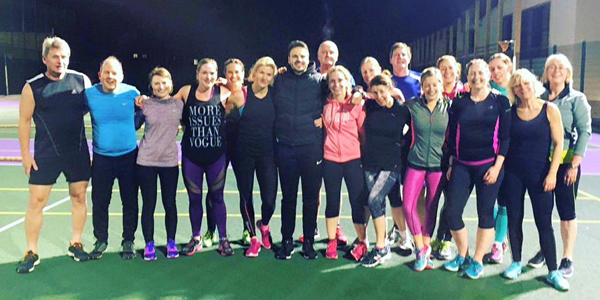 One to one Personal Training at a day, time and location to suit!
As you can imagine, the last two weeks we have all had packed diaries with loads of Personal Training sessions with many of you every day and week! All of us now have very limited availability – so if you have been thinking about booking some sessions now is the time to get in touch! 
Personal Training sessions can take place at a day, time and location to suit you be it at your home, a local park or at our Gym in Farnham.
Personal Training Blitz with Grant
Virtually all January PT Blitz dates with Grant at our Farnham Gym have sold out – there's the odd space available so do get in touch asap to see what is available. Next weekend February dates will go on sale – Grant does Monday, Wednesday, Friday evenings plus Saturday and Sunday mornings. Places get snapped up in minutes so check your inboxes next Sunday! You can see daily video clips from sessions if you follow us on Instagram!
Boot Camps in the snow!
On Thursday with the forecast for snow we had a few emails from newer members asking 'What happens if it snows?!?' and 'Do the classes still run if it rains?!?!'. Hmmm…..just a heads-up that nothing stops our classes!
No matter what the weather we still get people coming and the beastings continue as many long standing members will testify!
Here's some proof, check out these photos from our Friday morning Godalming Boot Camp in the snow! A bit of snow doesn't stop our classes or the hardcore showing up….especially Justin wearing shorts! Yikes!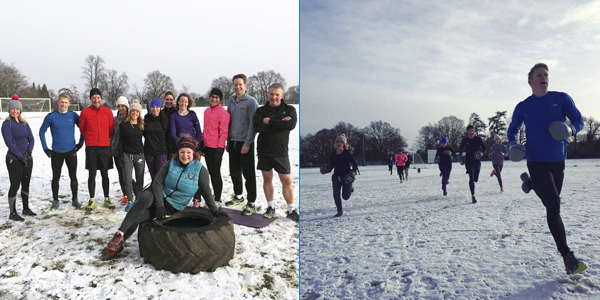 Follow us on Facebook and Instagram!
Don't forget to 'like' us on Facebook, follow us on Twitter and Instagram to get the daily updates from SFC HQ and reminders of what classes are on and when! We also upload photos like this cracker below from the end of Saturdays class in Godalming and videos from our classes so you can see what we've been up to!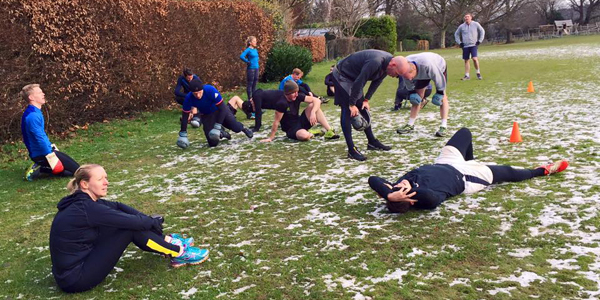 Two weeks free membership!
Remember we offer everyone a free two week trial membership! If you haven't tried SFC yet, or if you're already a member that has a friend keen to try some of our fab classes then get in touch and we'll do the rest!
———————————
That's all for now! In our next newsletter we will have details on who won the January 'Member of the Month' and introduce Rosie and Karen who have joined our team of trainers here at Surrey Fitness Centres.